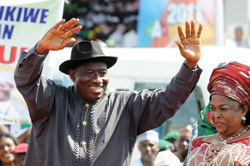 Hmnn....even though i wasn't able to perform this major civic responsibility of voting in this year's election[ i currently am under a contract in South Africa to produce National pageant winners for Botswana & South Africa in the Mr. & Miss Heritage International Pageant], i have been following the updates carefully, and am pleased that the election went peacefully and successfully...
From the votes counted so far, President Goodluck Jonathan seems to lead with a margin that it will take a major miracle for other contenders to bridge...with that, Goodluck is possibly going to lead Nigeria for the next four years...
Results are expected within 48 hours of the polls' closing, which took place around 6 p.m. local time in the West African nation, the Independent National Electoral Commission said in an e-mailed statement today....
So, what are your views about the election so far? Did it meet your expectation? Lets Hear your views....