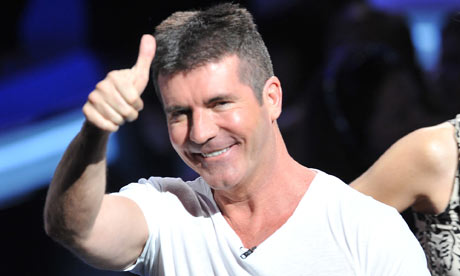 Simon Cowell has been named the highest paid man on primetime television in the US, with estimated earnings of $75m (£45m) last year.
Cowell collected the haul for his work as a judge on the talent show American Idol and as the creator of America's Got Talent.
The business magazine Forbes
put the Brit ahead of Donald Trump, the host of the US version of The Apprentice, who made an estimated $50m in the year to 1 June. The American Idol host, Ryan Seacrest, came third, with $38m.
Hugh Laurie, who has become a star in the US for his portrayal of a curmudgeonly physician in Fox drama House, was the only other British member of Forbes' list of the top 10 male earners on prime-time TV.
He collected an estimated $10m last year, making him the ninth highest paid man on the list.
Other well-rewarded personalities included Charlie Sheen, star of the hit sitcom Two and a Half Men, with $21m, and Steve Carell, who appears in of the US version of The Office, with $20m, according to Forbes.
Cowell has become the king of prime-time TV on the back of the phenomenal success of American Idol, where he is the linchpin of the judging panel.