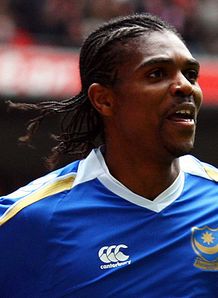 The Tolaram Group, makers of Indomie Instant Noodles, has signed an endorsement deal with one of Nigeria's greatest brand ambassadors, Nwankwo Kanu.
Nwankwo, who plays for Portsmouth Football Club in the English Premier League, is Africa's most decorated player. He won the UEFA Champions League with Ajax of Holland, two Dutch league titles with the same club, in addition to a World Club Cup trophy and a UEFA Super Cup. He later won two English Premier League titles with Arsenal Football Club, three English FA Cup titles.
Kanu won the U-17 World Cup with Nigeria in 1993 and captained Nigeria to Olympic football gold medal three years later and was twice named African Footballer of the Year - in 1996 and 1999.
The Tolaram Group "recognises the importance and impact of a dynamic ambassador that will portray the image of the group and what we stand for".This development is in synchronisation with the Group's continuous efforts in associating with Nigerians who have distinguished themselves both locally and globally.
"It is also in line with the Group's brand positioning exercise aimed at maintaining its leadership position in the country."